A report from my friend Lilly Martin in Latakia:
I bring to your attention a very serious bit of information about the 24 elderly Syrian Christians kidnapped in March 2014 from their homes in Kassab, a Syrian town on the Turkish border with a predominantly Armenian Christian population.   The destruction and occupation of Kassab began at 6 AM on March 21, 2014.   Eighty eight people were massacred in Kassab, thirteen of them beheaded.   Kassab had no military presence or military significance.  The only strategic thing about Kassab was it was on the border.
Dr. Declan Hayes, Economics professor of Southampton University, UK is in Syria and spent several nights in Kassab for the purpose of detailing the losses there and eye witness testimonies of victims.  He sat with the survivors of the 24 elderly people kidnapped from their homes in Kassab and taken to Turkey by the Free Syrian Army and their associated terrorists.  They were held captive in Turkey for 3 months, March to June, 2014.  They were finally flown to Beirut, Lebanon and from there they took transportation to Latakia, and then later to Kassab.
According to Dr. Hayes,  the victims themselves told him that on the very first day of their 3 month captivity in Turkey, the US Ambassador to Turkey personally visited them, with a female they thought was his wife, and a translator.  He asked them many questions, and then ate lunch with them and then left, never to return.   One can only imagine what questions the Ambassador might have asked.   Most likely, he asked whether any of the captives were U.S. citizens.   Since they weren't, he abandoned them to their fate.          
However, several US citizens, including Lilly herself and some others, did in fact loose property in Kassab, which the FSA destroyed and looted.   He never asked. ***
Nothing whatsoever has been done to re-build Kassab.  No Armenian church donations from USA have arrived.  Everything there is still uninhabitable.  The place is dangerous, still being attacked by long range missiles from Turkey at this time.  Travelers on the road to Kassab were recently attacked by terrorists coming from Turkey.  Nothing there is stable or resolved.  In fact, most Kassab residents have not returned, and many have said they would never return under those circumstances.
***  This report was confirmed by Dr. Hayes, who has submitted it to the UK Parliament.   Dr. Hayes was  in Syria with me as an Election Observer in June.. Lilly lives in Latakia, but she and her Syrian husband have a summer home, and friends, in Kassab.     The story of Kassab is just one of the many similar ones that come from Syria in the last 3 years.
A Little Background
An article on the subject  published in Al Ahram,, a Cairo based News outlet, was accompanied by this photo of the 'FSA' militants, actually members of Jabat al Nusra (Al Qaeda),  who occupied Kassab from March to June and moved back and forth across the border into Turkey with impunity.
A brutal three-day attack by Al-Qaeda's Al-Nusra Front and Ansar Al-Sham started early Friday morning, 21 March, and took the lives of 80 people. Rebels crossed the Turkish border and attacked Armenians living in Kessab, looted and occupied their homes and stores. The majority of the population of Kessab was evacuated by community leaders to safer villages.
Al Ahram also report that the Armenians of Kassab made an international plea for assistance:
"This is a call to all Armenians. This is a call to humanity. The world needs to hear the truth. Erdogan and his government are war criminals. We need your help. We need you to take action. Our lives depend on the chance that you will do something to make sure we too don't die. We were forced out of our homes and our town with nothing but the clothes we wear."
And In response:
The Armenian National Committee of America (ANCA) has called on US President Barack Obama to pressure Turkey to stop facilitating attacks by extremist foreign fighters on the northwestern Syrian town of Kessab. In a bitter letter issued 24 March, ANCA Chairman Ken Hachikian addressed the president: "The US has the power to stop Turkey's provocations and assistance to these radical groups and send a clear message that targeted military strikes against innocent civilians is unacceptable under any circumstances and a clear violation of international law. We call on you to direct Secretary of State John Kerry, US Ambassador to the Republic of Turkey Francis Ricciardone, and US Ambassador to the United Nations Samantha Power to immediately press Turkey to stop facilitating attacks on civilians in Kessab and investigate Turkey's reported assistance to foreign fighters associated with US-designated terrorist groups. We, furthermore, ask your assistance in directing need-based humanitarian aid to the victims of the onslaught on Kessab as soon as possible."
Now it becomes clear why the American Ambassador in Turkey stopped by to visit the hostages (with his wife, no less) held by the Al Nusra militants who had overrun Kassab, and why they were eventually freed rather than murdered like so many others.
Some Context
In a March 29 article in the Levant Report, blogger Brad Hoff provided  some context:
The Kassab border crossing with Turkey, recently under rebel control, has become an open access point for Al-Nusra and other terrorists. Video footage has recently emerged, confirmed as authentic by multiple Syria experts, of Al-Qaida affiliate terrorists flowing freely into Syria from the Turkish side of the border.

It is not merely that the Turkish authorities have failed to seal off the border, but that Turkey is actively engaged in a rear support capacity for Al-Qaida operations in Syria. Last week, Dr. Landis also pointed to the following on his Twitter account: the below photo posted by Turkish journalist Ali Ornek with the caption, "Injured militants cross the border & taken to hospital with cars allegedly belongs to Turkish intelligence."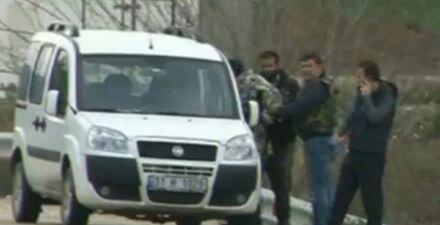 Now you may wonder where the Syria Arab Army was while all this was going on.  A Syrian war plane was shot down over Kassab on March 23rd. The SAA fought in Kassab for 3 months to drive out the militants. However it then became necessary to re-focus their forces in the east, where ISIS, newly armed with U.S. weapons from Iraq, was declaring a new 'state with the Syrian city of Raqqa as its capital..